Dhoti is treated as traditional and formal wear in India, and every part of India wears it as per their traditions. All parts of India call it by some other name. Some may call it Lungi, while others may call it Mardani, Chaadra, or Dhotar. Also, in different parts of India, people wear it in different styles and on different occasions. This is why you see a mixture of styles, quality, and fabrics when buying dhotis. Sometimes it gets confusing when deciding which style you should follow while wearing a dhoti.
It is very common to see men wearing dhotis at functions, which is why men's dhoti kurtas are highly in demand. Also, there are many different patterns and designs, like the double-sided colour dhoti or the modern dhotis that people wear at marriage functions. For many reasons, men wear dhotis, and this is why we are going to brief you about the different types of dhoti for men and how you can pull it off with different styles.
Types Of Dhoti For Men
1. Silk Dhoti
The versatile silk dhoti for men is famous for its fine quality and premium feel. Mostly, you will see men wearing it during traditional or auspicious events. The silk dhoti compliments the overall personality of the man, and it comes with a simple yet elegant border design pattern to make it more appealing. Mostly, you will see people wearing the premium Kanchipuram pure silk dhoti at big events or functions.
2. Cotton Dhoti
After silk the most common fabric used to make dhoti is cotton and again it serves the same purpose as silk dhoti. Most people like to wear white or cream-coloured dhotis as they blend well at traditional functions. The cotton dhoti is worn by many men in the south at weddings or other functions, and you can easily find ready-made cotton dhoti online on many websites.
3. Polyester Dhoti
Polyester dhotis are very common in south India and mostly the priests of the temples wear them. However, a normal person can also wear it for marriage or make it a regular daily outfit. Dhoti made of polyester comes in great smoothness, colors, and styles. If you wish to buy a readymade dhoti for pooja, then buying a polyester dhoti could be a good choice for you.
4. Lycra Dhoti
The lycra fabric is now very much in demand as you get a variety of designer dhotis made out of this fabric. Also, you get a blend of cotton-lycra in most of the dhoti which is why they are loved by the people. You can wear it to function easily and make many outfits out of it.
5. Satin Dhoti
While looking for different types of dhoti, a satin dhoti will definitely bump into you as they are very common nowadays. You may see people wearing satin dhotis at big events or functions as they look stylish and put you in the spotlight. All you have to search for is the dhoti-wearing styles that will make you and your outfit magnificent.
Different Styles of Wearing Dhoti
1. Tamil Veshti Dhoti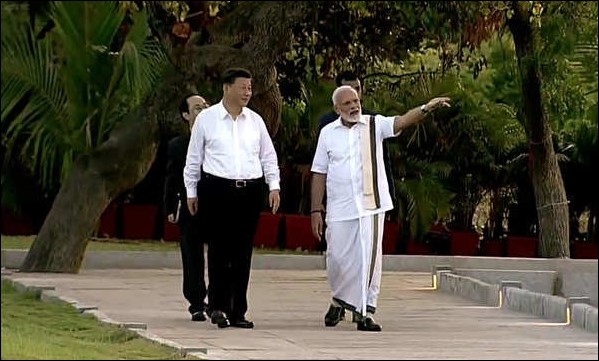 The Veshti Vetti also known as the Mandu bears the pride of Tamil Nadu's rich culture. This is one of the best types of dhoti styles for men where men drape it around the waist or sometimes tie it and fold it halfway to give a short look. Make sure you're wearing dhoti matching footwear to enhance the look of overall attire.
2. Maharashtrian Dhotar
During the golden age, the Peshwas and the Marathi Royals used to wear this traditional dhoti and now you will see many Maharashtrian proudly wearing this. The dhoti is treated as a premium attire and many villagers and elderly people wear it daily.
3. Rajasthani Dulangi Dhoti
The Dulangi dhoti comes from the culture-rich state of Maharajas. Rajasthan is a place that has heritage places and things and this dhoti is one such cultural attire that people wear for a very long time. Although the traditional dhoti is really comfortable but really hard to wear.
4. Punjabi Chadra
One of the most common types of a dhoti for men in the Punjab region, the Chadra looks very much similar to the Lungi. The Punjabi Chadra is very easy to wear and it is very comfortable. Usually, you will see the elderly or the people from villages wearing such dhoti.
5. Telugu Pancha Dhoti
The Pancha Dhoti is yet another addition to the dhoti styles from South India. Mostly this kind of dhotis is worn by the men in Andhra Pradesh. They are usually made of cotton and certainly very comfortable to wear. If you are thinking of buying readymade dhoti for men online, we would suggest you try this one for sure.
6. Bengali Kochano Dhuti
The Bengali Kochano Dhuti is very similar to the normal dhoti that you may have come across. But it comes with a little twist and this is why you will see a circular pleated towards the left side in the dhoti. The dhoti comes in various varieties like cotton, silk, tusser, etc. You can easily find Bengali readymade dhoti online or offline in many stores.
Footwear with Dhoti
If you are thinking of buying a ready-made dhoti for marriage or any other event, it is important to match it with the best footwear. There are certainly many choices as an individual depending on your taste. You can pull off the dhoti attire by wearing Juttis, Kolhapuri Chappals or Sandals, Mojaris, Leather Sandals, Velvet Loafers, and Oxford Shoes.
Frequently asked questions
Q1: What are the different options to wear with dhoti?
You can style the dhoti with a silk shirt, traditional kurta, Jodhpuri jacket, coat, or a Tuxedo.
Q2: When do you wear a dhoti?
Usually, people wear it for formal events, marriage ceremonies, religious ceremonies, or during festivals.
Q3: Which fabric is good for dhotis?
Usually, people buy dhoti made of silk or cotton fabric in every part of India.